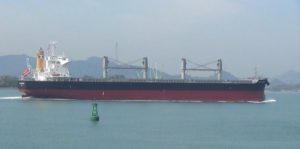 Panama's decision to allow a ship carrying Moroccan phosphates to continue its journey to Canada has thwarted the Polisario's new maneuver, schemed by Algeria, to wage a sea warfare against Morocco, by tracking systematically all phosphate-loaded boats leaving the Moroccan Sahara region.
The Polisario, encouraged by the precedent of South Africa, which had boarded a boat loaded with 50,000 tons of Moroccan phosphates heading to New Zealand, tried to make a replay in Panama, with the help of an army of lawyers generously paid by the Algerian regime.
A Panama court, specialized in maritime affairs ordered a seizure of the Canada-bound ship last week. But after the regular checks, the ship named Ultra Innovation, was allowed to continue its journey to the Canadian port of Vancouver. The boat was immobilized for only two days and the Polisario's maneuver did not float.
Through these legal harassments, the Polisario and its Algerian mentors, try to minimize the diplomatic setbacks they suffered lately, particularly at the level of the United Nations with the adoption of Security Council Resolution 2351, which definitively opted for a "political solution" to the Sahara conflict.
This means that the referendum option is ultimately discarded.
At the same time, the UN body mentioned efforts and developments since 2007, a clear reference to the Morocco-proposed autonomy initiative, described by the Security Council as a "serious and credible" basis for a settlement.
The UN insistence on the "political solution" has put the Polisario and Algeria in disarray, as they obstinately oppose such a solution. This explains their shenanigans and their fishing in murky waters.