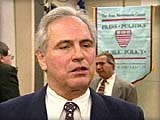 It's a not less than 25 pages document addressed to the new UNO mediator for the Western Sahara prior to his predicted visit to the region. This note, prepared by the Algerian Minister of foreign affairs, and the department in charge of relations with the MINURSO, clearly indicates that the points that can not be discussed with the high representative of the UNO SG, in an attempt to cripple his action.
In fact, by setting up "technical" measures, in order to guarantee Mr. Ross' "security", the Algerian government aims at preparing the ground for his visit to the Polisario camps in the surrounding area of Tindouf, and preventing him from meeting the Sahrawi peoples, for fear that they should "pollute" his evaluation of the situation.
Indeed, since many months, dissident guards from the Polisario Front have started transmitting their message on the Internet, stating their will to negotiate with Morocco without « prerequisites », which clearly seems as a split in the guerilla block. These dissident guards would have wanted, as per the information that reached the "Confidential Polisario", to profit from the UNO envoy's visit, in order to make their voice heard and assert their right to the difference with the official line of the Front. Thanks to this information, the Algerian apparatus has decided to limit the area of Ross's visit to the only officials of the Front, including its secretary general, Mohammed Abdelaziz. Nevertheless, it would seem that the guards have not said their last word, and that a "surprise" is waiting for the diplomat…
Occupied for over 40 years by Spain, the peoples of the Western Sahara have suffered during this long period from the hard conditions and the painful fates reserved for the colonized. The Sahrawis were deprived of the fundamental liberties that would allow them to defend their right and express their legitimate claims. They can buy neither lands nor real estates unless they accepted the Spanish nationality. Unable to assimilate morally the Moroccan Sahrawis, the Spanish tried to castrate them intellectually but failed to conquer their souls.
The decolonization of the different parts of Morocco occupied by Spain has been obtained as part of a simple retrocession to their unique owner, Morocco. For the Moroccan Government attached to pacific means, it was not necessary to stop this decolonization process for the Western Sahara. The gradual progression via negotiations had been preferable to use power. Regardless of its role as energies unifier, the Green March had become the ultimate mean to achieve decolonization. The aim behind this pacific way was the territory liberation while avoiding the military confrontation consequences on the people.