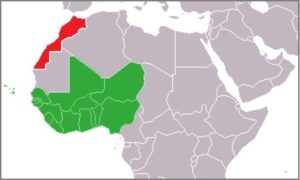 The diplomatic setbacks suffered by Algeria over the past few months do not seem to be showing any signs of stopping.
The green light obtained by Rabat on Sunday in Monrovia to join ECOWAS adds to the worry of Algeria and the Polisario, which had long bet on Morocco's isolation from the rest of the continent.
The 15 Heads of State of the Economic Community of West African States, who approved in principle Morocco's bid to join their bloc, have opened wide the door of the West African Regional organization to the Kingdom.
Better yet, West African leaders have justified their decision to welcome Morocco by the "strong and multidimensional cooperation ties" existing between their countries and the Kingdom. Thus, less than six months after Morocco's return to the African Union at the AU summit in Addis Ababa (end of January), the decision by ECOWAS heads of state to accept Morocco comes to crown the Kingdom's African policy.
This policy, spearheaded by Mohammed VI, is underpinned by a solidarity-based South-South cooperation, in which Africa trusts its own capacities and resources. Today, the fruits of the economic and political dynamics, initiated a decade ago, are palpable and quantified.
Dozens of Moroccan companies are operating in some twenty countries in sub-Saharan Africa and West Africa and their presence is highly appreciated by the host countries, as they contribute to the promotion of sectors essential for the economic emergence of the Continent: telecom, road infrastructures, banks, insurance, construction…
The successes scored by Morocco irk Algerian rulers and their separatist puppets, especially that they have, over the last forty years, put the isolation of Morocco on top of their objectives.