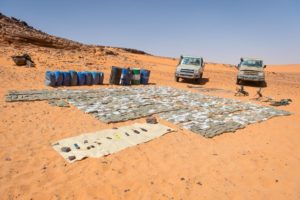 In Morocco, the dragnet that led to the arrest on Monday of half a dozen international drug and psychotropic traffickers, including an Algerian, a Malian and two members of the Polisario, illustrates the extent of cross-border criminality in the Sahel and in which the Tindouf camps in Algeria have become a central link.
The traffickers were arrested in the towns of Tan-Tan and Guelmim (800 km south of Rabat), as well as in nearby desert localities, while they were mounting a major international drug trafficking operation.
The seizure of weapons, satellite communication devices, all-terrain vehicles and large sums of money in Moroccan and Algerian currencies, put the Moroccan security services on alert.
It is difficult not to establish a link with the terrorist groups swarming in the Sahel-Sahara zone, at a time terrorism has become a transnational phenomenon and at a time the Sahel faces major challenges because of the proliferation of terrorist groups.
This area is also a storage space for the enormous quantities of drugs smuggled in from Latin America across sub-Saharan Africa, and destined to be shipped to Europe through the Moroccan, Algerian or Libyan coasts. The banned substances also include psychotropic drugs (rivotril), manufactured in large quantities in underground laboratories in Algeria. Many elements of the Polisario have actually specialized in the trafficking of these psychotropic drugs.
The concern is all the stronger that Western intelligence services have long established the connection between drug, human and arm trafficking networks and terrorist groups in the Sahel. The threat prompted Moroccan authorities to adopt a security approach, based in particular on anticipation.
Two decisive events had persuaded Moroccans as to the real danger represented by Jihadist groups: the May 2003 attacks in Casablanca, which had killed about 40 people, and the attempt by armed Islamist groups to attack commercial ships and NATO vessels, crossing the Strait of Gibraltar.