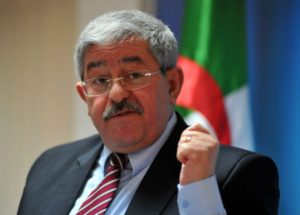 The Polisario leaders have been gloating since Ahmed Ouyahya's return to business in Algeria. The reserved Abdelmajid Tebboune has been disembarked less than three months after his appointment as Prime Minister. A victim of the endless clan wars taking place at the bedside of the crippled President.
The Polisario leaders' exhilaration is relayed by the online media close to the separatist front, which called Ahmed Ouyahya "a great friend of the Sahrawi people".
Actually, Ahmed Ouyahya found in the Sahara issue the opportunity to show the extent of his hatred for Morocco. Every time he held the position of Prime Minister, first between 1995 and 1998 under the presidency of Liamine Zeroual, then from 2003 to 2006 and from 2008 to 2012 under Bouteflika, Ouyahya indulged in his animosity against Morocco.
In 2015, Ahmed Ouyahya was the first to step up to the front to condemn Ammar Saadani, the former secretary general of the FLN, for his freethinking statements on the Sahara issue.
Saadani, who ended up handing his resignation from the FLN, had said on Ennahar TV: "I have things to say about this case (the Sahara conflict), but I will not tell them… I think they might drag the country into another path…"
The nickname that Ouyahya has chosen for himself "the man of the dirty work" suits him perfectly in the Sahara issue. He was very close to the leaders of the military intelligence services (DRS) and used to take care of their dirty work with zeal.
As there was no longer unanimity about the Sahara conflict and Algeria's support to the Polisario within the Algerian political class, you can understand better why the Polisario leaders are exulting at the announcement of the Ahmed Ouyahya's return.