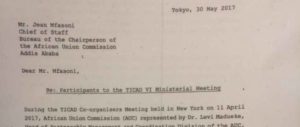 It was a serious blow that the Polisario suffered in Maputo, which is hosting the TICAD, the Japan-sponsored Tokyo International Conference on the Development of Africa. Tokyo categorically refused the presence of the republic, self-proclaimed by the separatist front, despite the insistence of the host country, Mozambique.
This position was confirmed on Friday by Japanese Foreign Minister Kono Taro during talks with his Moroccan counterpart Nasser Bourita. For the head of Japanese diplomacy, Japan does not recognize the Sahrawi Arab republic (SADR) and cannot tolerate its presence at TICAD, a forum funded by Tokyo and dedicated to development in Africa.
The firmness with which the Japanese responded translates Tokyo's determination not to let itself be caught in this game. And beyond the Polisario, the firm response is addressed to Mozambique, the meeting's host country that maneuvered to infiltrate the Polisario delegates into the conference hall, and more broadly to the other countries that support the separatist front, mainly Algeria and South Africa.
In a letter addressed to the President of the African Union (AU) Commission last May, the Japanese Foreign Ministry stressed Tokyo's categorical rejection of the presence of the SADR. Japan's arguments were simple: "Japan does not recognize +Western Sahara+ as a state, neither explicitly nor tacitly".
For this reason, "since TICAD inception in 1993 +Western Sahara+ has never been invited to any of its meetings, whether in Japan or Africa and whatever the level of the meeting," the letter explained.
Japanese Foreign Minister Kono Taro made it clear that Japan will no longer tolerate such organizational missteps, starting from the next TICAD ministerial and Summit meetings scheduled to take place in Japan.