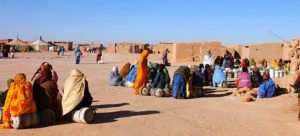 The leaders of the Polisario separatist front are very embarrassed because of the group of young Sahrawis who fled the Tindouf camps and attempted to seek asylum in Spain.
According to a source from the Polisario headquarters in Tindouf, they are embarrassed, as are Algerian rulers, because the case brings under the spot light again the appalling living conditions prevailing in the camps.
The Sahrawis' case is likely to linger on, especially as the Spanish authorities refuse to grant them political asylum. In protest, 54 of these young people went on a hunger strike at Barajas airport near Madrid where they are still stranded.
They say they prefer to go to prison in Spain rather than to be expelled to Algeria and forced to return to the Tindouf camps.
Such a determination to refuse to return to Algeria speaks volumes about the inhumane living conditions prevailing in these Tindouf encampments, held under the totalitarian control of the Polisario, with the complicity of the Algerian military intelligence chiefs.
This case constitutes an indictment especially against Algeria, whose leaders cover the Polisario-committed abuses. As for the Madrid government, it refuses to grant political asylum to these youths, fearing to open a Pandora's box, for thousands of young Sahrawis have only one dream: flee Algeria and the Tindouf camps.
Moreover, two among the 54 youths have just come back from Cuba, the Polisario's unconditional ally, where they studied medicine. This explains why the Polisario chief Brahim Ghali asked the Cuban government not to deliver diplomas to the Sahrawi graduates unless they return to Tindouf.
The purpose of such an incredible request is clear: dissuade Sahrawi graduates from going elsewhere than in the camps of Tindouf.