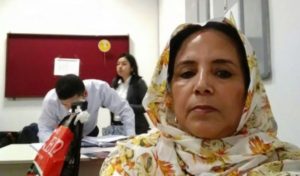 Peru has placed the Polisario in an unprecedented awkward situation. The Peruvian customs police denied entry to a person who presented herself as the ambassador of the Sahrawi Republic, while she was in possession of a passport issued, not by the SADR, but by Spain.
Khadijetou Mokhtar, who was arrested on Saturday at Jorge Chavez airport in Lima for "usurping" diplomatic status, backtracked in a confused manner. To get out of this inextricable situation, the Sahrawi activist preferred to disavow herself. She dropped the "diplomatic status" and presented herself as a "Spanish tourist".
Ironically, the false diplomat even appealed for Spanish consular protection in the Peruvian capital. But Khadijetou Mokhtar's tricks did not convince the Peruvian border police. She was held at the airport, waiting for the Peruvian court to issue the deportation order. Monday, she was still at the airport.
Until this discreditable incident, the Polisario and its mentor Algeria regarded Peru as a staunch ally of their cause. But Lima has obviously decided to put an end to this little game to which the Polisario activists are accustomed.
They show Algerian or Spanish travel documents, but present themselves as representatives of the Sahrawi republic, an entity that is not recognized by the United Nations as it lacks the attributes of a state necessary for UN membership, and that has no political or legal existence at the international level.
Thus, the demystification of the pompously called Sahrawi Arab Democratic Republic is gaining ground by the day, after it has long been used to serve the fait accompli policy practiced by Algeria in the Western Sahara issue.