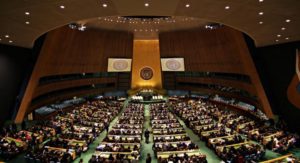 The Polisario and its mentor, Algeria, have been unsettled over the past two weeks at the diplomatic level by one of the most worrying matters for them, that of the Morocco-proposed autonomy plan in the Sahara, which has gained clear international support.
During the debates of the 4th Committee of the UN General Assembly meeting in New York, Gulf States and many African and Latin American countries renewed their strong support to the autonomy plan, described as a solid basis to put an end to the regional conflict over the Sahara.
In this connection, Manal Redouane, the representative of Saudi Arabia to the UN, recalled the firm position of the GCC countries supporting Morocco and the Autonomy Initiative in the Sahara. The Saudi ambassador recalled in this respect the "Riyadh Declaration" adopted in April 2016, during the first Summit that had brought together Morocco and the six countries of the GCC.
For the Saudi diplomat, the autonomy plan is a "constructive initiative" and a "compromise solution, in line with international legality, the Charter of the United Nations and the resolutions of the US Security Council and General Assembly".
The support to the autonomy plan, voiced by Riyadh and confirmed by the other GCC member countries as well as by Jordan, was also renewed by many African and Latin American countries, whose representatives took the floor before the UN 4th Committee.
At the same time, the French Foreign Minister Jean-Yves Le Drian who was visiting Rabat on Monday brought up the autonomy plan that France supports with the lucidity of the former colonial power in the region, which perfectly knows the origins of the Sahara issue and the challenges in the Maghreb.
France's standpoint on the issue is constant, insisted the French Official, recalling that France had "already declared that the autonomy plan initiated by Morocco was a good basis for negotiations". France believes that "the UN Secretary-General may have the opportunity, starting from this basis, to take the necessary initiatives", said Jean-Yves Le Drian.