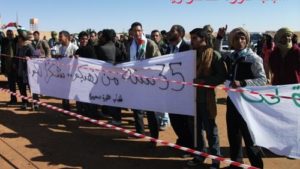 The visit Wednesday in the Tindouf camps of Horst Köhler, the new Personal Envoy of the UNSG for the Sahara, is worrying the Polisario leaders, who hastened to transfer far away from the camps all the Sahrawi opponents to avoid that they stage protests during the UN mediator's sojourn.
Horst Köhler arrived on Sunday in Morocco, the first stage of his tour in the countries of the region concerned by the Sahara issue. After Rabat, the former German president is expected in Algiers and Nouakchott. But it is his visit in Rabbouni camp, the separatist front's headquarters in Algeria, which is most worrying the Polisario, as well as the Algerian military intelligence services (DRS).
DRS agents, assisted by elements of the separatist front, acted quickly. The Sahrawis, opposed to the Polisario leaders and their subjugation to the Algerian regime, were forcibly driven aboard several troop transport vehicles and all-terrain vehicles to an unknown destination, according to reliable sources in the Tindouf camps.
For these same sources, the objective of this evacuation is to prevent the opponents from demonstrating in the presence of the UN envoy. The separatists deemed the decision necessary in view of the renewed activism of anti-Polisario Sahrawis, who have multiplied protests in Tindouf against the separatist front and the Algerian regime in recent months.
What adds to the Polisario's disappointment is that the UN envoy, who will try to relaunch the negotiations begun in 2007 in Manhasset, after the presentation by Morocco of the autonomy plan for the Sahara, is not planning to visit Laayoune, foiling thus their plots.
Actually, the Polisario and Algiers had started mobilizing the pro-separatism Sahrawis settled in Laayoune. Their objective? Impress Horst Köhler during his trip in the chief town of the Sahara. But, much to their discontent, the trip will not take place.