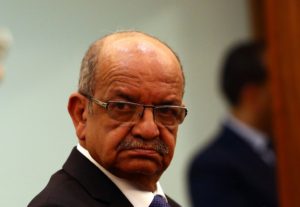 The incredible situation in which the Algerian Foreign Minister got entangled reveals the disarray of the Algerian regime on two fronts: its own economic and diplomatic failures being exposed by Morocco's noteworthy breakthroughs in Africa, on the one hand, and the successive diplomatic setbacks suffered by the Polisario, on the other.
The evidence of this anguish is to be found in the frailty and incongruity of the answer of Algerian Foreign Minister Abdelkader Messahel to the worries of Algerian entrepreneurs about their country's limited presence in Africa. Instead of explaining his country's shortcomings, he accused Morocco of laundering drug money through its flag carrier and its banks operating in Africa.
Messahel's remarks triggered a storm of scandalized reactions. Harsh criticism of the undiplomatic diplomat came from various sides, not only in Morocco, but in Algeria too.
Words of condemnation also came from Africa, where many are raising questions about this minister who slanders all airport authorities and banking systems of African countries. According to the Algerian minister, they are all involved in drug money laundering.
It is true that Messahel's thoughtless remarks come at a time Algerian diplomacy is damaged badly with regards to the Sahara issue. The Polisario, diplomatic facade of the Algerian policy on this issue, is losing ground everywhere. The separatist front's support is waning and only few southern African countries still adhere to its obsolete theses.
Messahel's controversial remarks also come as Horst Köhler, the UN mediator, is touring the Maghreb. This may be the perfect opportunity for the UN Secretary-General's Personal Envoy to get an idea of who are the true protagonists of the Sahara issue. The UN mediator will also have time to get a clear idea of the role played by the Algerian regime in the Sahara issue and the maneuvers it hatches to keep this regional conflict deadlocked.