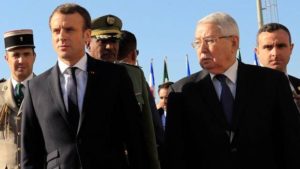 The Polisario leaders are making repeated calls and statements in an attempt to minimize the blow they were dealt by French President Emmanuel Macron who, during a stopover in Algiers last week, said, in response to a question from an Algerian journalist, that the settlement of the Sahara issue goes through "dialogue between Algeria and Morocco".
To make things clearer, the French President went on to say: "Together, with the support of the international community, your two countries must work to resolve this crisis." In his answer, Emmanuel Macron deliberately ignored the Polisario.
 In view of France's role as the colonial power in the Maghreb, which drew the borders of the states of the region, the French president knows exactly what he is talking about.

And when he omits mentioning the Polisario, he means that the separatist front does not exist by itself, and that it is only an instrument in the hands of the Algerian leaders to serve their hegemonic agenda throughout the region.
President Macron's position is consistent with that of the United Nations and the international community, which do not recognize the so-called Sahrawi republic, self-proclaimed by the Polisario and Algeria.
A well-informed source in Tindouf, the Polisario headquarters in Algeria, says Brahim Ghali was urged by Algerian generals to respond to Macron's straightforward remarks.
Their objective is obviously to express the anger of the separatist front and of Algerian rulers against the French Head of State who has jostled the diplomatic uses to speak candidly about the reality exactly as it is.