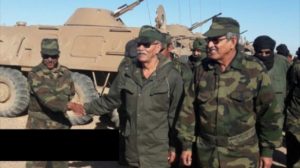 To understand the roaring remarks of Abdallah Lahbib Bilal, presented as the Minister of Defense of the Polisario, who has threatened to resort to arms again, it is necessary to survey the events that took place during this ending year, and the many setbacks suffered by the Algeria-backed separatist front.
The year 2017 had actually started with Morocco's return to the African Union (AU), with the support of a large majority of member states of the pan-African organization. Since then, the Polisario has gone from diplomatic debacle to political rout.
The defeat of Brahim Ghali's friends was particularly resounding in Latin America and in Africa where the number of their supporters is increasingly shrinking.
And the Polisario knows that Algerian rulers who used to distribute lavishly the petrodollars to buy it support can no longer do so. Times are tough for the Algerian government, which is facing an economic and financial crisis because of the decline in oil prices.
Confronted with so many misfortunes, the Polisario leaders found no other way to divert attention than organize military maneuvers in the region of Aghouinite, a totally deserted area, they call "liberated territories". They know that their military exercises are useless, but hope that they would defuse somehow the Sahrawis' wrath roaring in the Tindouf camps.
Actually, the number of opponents to the Polisario's policy continues to grow in Tindouf, especially among young people, who no longer support the stalemate of the Sahara conflict and openly demand that the Polisario frees itself from the tutelage of Algerian generals.
So, who will be lured by these military exercises, conducted under the supervision of senior Algerian officers and supported by the Algerian media propaganda? Surely not the angry youths in Tindouf.