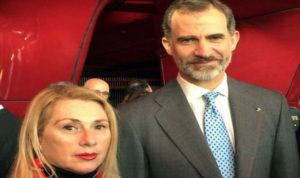 Lucía Jiménez, the resolute chairwoman of the Canary Islands Association of Victims of Terrorism (ACAVITE) was finally received Monday by King Felipe VI of Spain, a landmark meeting for this courageous activist who waged a long fight so that justice be rendered to the victims of terrorist acts perpetrated by the Polisario.
The activist was received by Felipe VI during the awarding ceremony of the Adolfo Suárez Human Rights Award, granted by the Spanish Association of Victims of Terrorism.
During her long talk with the Spanish Monarch, Lucía Jiménez spoke about the association she chairs, but mainly about the Spanish victims of the attacks committed by the Polisario in the Sahara during the colonial era, and who have not yet received any help from Spanish authorities.
Felipe VI listened to her carefully and asked her about the fate of the widows and orphans of the victims of the Polisario attacks, including the Spaniards who were employed in Fosboucraa, a phosphates extracting company, as well as about the Canary Islands fishermen who used to fish off the Sahara coasts.
Between 1976 and 1985, when Morocco and Spain were bound by a security and protection agreement for Spanish workers and their families, the Polisario attacked Spaniards employed in the Boucraâ phosphates mines. The Polisario also attacked Spanish fishing boats that operated between the Canary Islands and the Moroccan southern coasts.
In 2006, thanks in part to the struggle of Lucia Jimenez, who is the daughter of Francisco Jimenez, assassinated by the Polisario in the Sahara, the Spanish government made a first decision in favor of the victims, whose families were granted €96,000 compensations.
However, ACAVITE, under the leadership of its founder Lucia Jimenez, is determined to continue the fight until the sufferings of the victims' families are recognized and until they are granted full reparation.