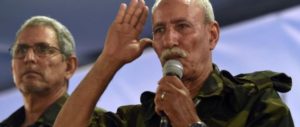 Will Horst Köhler intervene so that the Polisario leader has a safe-conduct allowing him to go to Berlin without being caught in Europe as he is wanted by the Spanish justice for serious crimes of torture and enforced disappearances?
The former German President, who has been named UN's mediator in the Sahara issue, is planning to launch separate talks in Berlin at the end of January with Morocco, Algeria, the Polisario and Mauritania. However, there is a problem for Brahim Ghali's trip to the German capital.
And for good reason! The separatist front's leader is prosecuted by the highest Spanish court, the Audiencia Nacional, for very heavy charges. Since 2008, he has been prosecuted in Spain for torture, enforced disappearances and other serious human rights violations in the Tindouf camps in Algeria.
If it rejoices at the prospect of ??a resumption of negotiations on the Western Sahara conflict under the leadership of Horst Köhler, the Algeria-backed separatist movement is, however, dubious as to Brahim Ghali's trip to Europe. The Polisario leader has not set foot on European soil since 2008.
That year, the Sahrawi victims, who had miraculously escaped death in the Tindouf camps, filed a complaint against Brahim Ghali, then representative of the Polisario in Madrid. The Spanish judge Pablo Ruz held a hearing with the victims and decided, after doctors confirmed the plaintiffs were showing traces of abuse, to summon Brahim Ghali. The accusations against him date back to the time when he was an influential front leader in Tindouf, between 1976 and 1989.
Brahim Ghali ignored the summons and did not appear before the Spanish National Court, which, by virtue of the law of universal jurisdiction, is empowered to rule on crimes committed even outside Spanish territory.
After an exfiltration operation, Brahim Ghali landed finally in Algiers where he held, as of the same year 2008, the position of ambassador in Algeria. He will remain in the position until the Algerian Generals put him at the head of the Polisario after the death of Mohammed Abdelaziz, in 2016.
The question now facing the mediator Horst Köhler is how to get Brahim Ghali, who is asking for guarantees not to be picked at the first European border post, in Berlin.