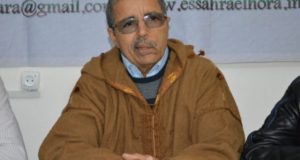 A new episode of the Algerian Generals' stranglehold on the Polisario started with the appointment of Mohamed Akaik as "prime minister" of the pseudo Sahara republic (SADR), in replacement of Abdelkader Taleb Omar, who was ousted without any explanation.
Mohamed Akaik, a graduate of the "Cherchell" military academy in Algiers, becomes thus Algeria's second in command in the Polisario leadership. Meanwhile, the Polisario leader, Brahim Ghali, has scored, with the backing of Akaik, a fierce hardliner against Morocco, a point against his rival, Lamine Ould Bouhali.
In the Polisario headquarters in Tindouf, Mohamed Akaik is infamous as a hawk, and in Algeria, he is notorious for his acquaintances with senior officers of the army. As he had previously held the position of Polisario intelligence officer, he remained very close to the former DRS, the Algerian military intelligence, that has the upper hand on the separatist front and on the Tindouf camps.
From abroad, the appointment of Mohamed Akaik can be seen as a hardening of the position of the Polisario and Algeria, or even a second best in the confrontation with Morocco. Actually, the appointment comes in the wake of the diplomatic breakthroughs scored by Rabat in Africa. The year 2017, which was marked by Morocco's solemn return to the AU, was also a rewarding year for Moroccan diplomacy.
From inside the Tindouf camps, the appointment can be seen as a gesture towards Mohamed Akaik's tribe, the Izerguyine tribe.
The Izerguyine tribe is part of the Tekna tribal confederation, which has been kept out of the Polisario leadership since the death of Mahfoud Ali Beiba in 2010. Through Akaik's appointment, Algeria seeks to appease tribal rivalries and growing discontent in the Tindouf camps.