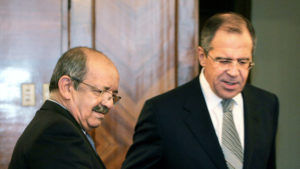 The Algerian official news agency, APS, has deliberately distorted remarks made by Russian Foreign Minister Sergei Lavrov about the Sahara. By doing so, the agency has not only made an ethical blunder, it also exposed the disarray of Algerian officials, who seek at all costs to put the Polisario back in the saddle after all the diplomatic setbacks it suffered.
The latest blow was dealt to the Sahrawi front by the European Union Council, which mandated the European Commission to negotiate with Morocco a new fisheries deal, before the expiry of the current agreement in July 2018.
The decision irked Algerian brass and political rulers for sure. The news agency's unethical distortion of the statement of the Russian Foreign Minister actually reflects the disarray prevailing in Algiers.
Reporting the joint press conference held in Moscow Monday by the Russian and Algerian Foreign Ministers, Sergei Lavrov and Abdelkader Messahel, APS wrote: Lavrov said that "Russia supports the holding of direct negotiations between the two parties to the Western Sahara conflict, namely the Kingdom of Morocco and the Polisario Front".
After the press conference video was posted and viewed, it turned out that the Russian Foreign Minister did at no time uttered the phrase reported by APS. He merely "called on the parties to the conflict to respect the ceasefire agreement", signed in November 1991.
Actually, Morocco's active diplomacy is unsettling Algerian rulers. Morocco returned to the African Union; Morocco is an unavoidable interlocutor for Europe; Morocco plays a key, stabilizing role on the southern shore of the Mediterranean, primarily in the management of migration and in the fight against terrorism. All this consolidates Morocco's standing as a key regional and international partner. Meanwhile, the separatists are losing ground on all fronts…