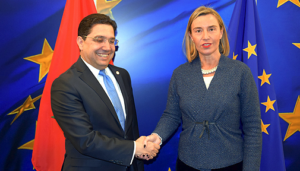 Immediately after the publication of the judgment of the European Court of Justice stating that the EU-Morocco fisheries agreement was "inapplicable" to the Sahara, Brussels and Rabat clearly voiced their "determination to preserve their cooperation in the field of fisheries" and to maintain their strategic partnership, a determination that has sown doubt in the ranks of the Polisario and its mentor, Algeria.
In a joint statement, the High Representative of the EU for Foreign Affairs EU, Federica Mogherini, and Moroccan foreign minister, Nasser Bourita, reiterated "their commitment to the strategic partnership between Morocco and the European Union and their determination to preserve and strengthen this partnership."
After they took note of the ECJ ruling, the two parties agreed to further strengthen their political dialogue and "preserve the stability of their trade relations," the joint statement added.
Rabat and Brussels noted that the close and sincere spirit of consultation that guided the adaptation process of the Agricultural Agreement "has created a valuable capital of confidence for deepening their partnership".
The two sides therefore remain determined to preserve their cooperation in the fisheries sector and reaffirm, in this respect, "their willingness to negotiate the necessary instruments relating to the fisheries partnership".
Areas of dialogue and partnership include "issues as strategic as migration, security, stability and regional development policy…", the statement added.
Finally, both parties reaffirmed their support for the United Nations settlement process of the Sahara issue and for the efforts of the Secretary-General to reach a final political solution to this issue.
The firmness of the joint statement issued by Brussels and Rabat created a climate of uncertainty for the Polisario and Algeria, which were pinning great hopes that the ECJ ruling would hinder the Morocco-EU partnership.
The ECJ ruling also reveals Algeria's relentlessness to use all means, whether diplomatic, financial or legal in its support of the Polisario front against Morocco. Obviously, the separatist movement cannot, on its own, pay for all this lobbying. The only means it has are those put at its disposal by its Algerian masters.