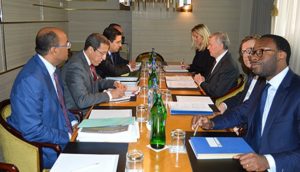 According to well-informed sources in Tindouf, the Polisario leaders have been taken aback by the diplomatic firmness adopted by Morocco, which dispatched a delegation, not to Berlin but to Lisbon, for bilateral talks with the UN Secretary-General's Personal Envoy for the Sahara, Horst Kohler.
In addition to the symbolism of the Portuguese capital, whose discussions stand out from those held by Kohler with other stakeholders in the Sahara conflict in the German capital, Nasser Bourita, the Moroccan foreign minister, was accompanied by the presidents of the two regions of the Sahara.
It is precisely the presence of Sidi Hamdi Ould Errachid and Yanja Khattat, the elected presidents of the Laayoune-Sakia El Hamra region and the Dakhla-Oued Eddahab region, which embarrasses most the Polisario leader Brahim Ghali and, behind him, Algeria. Actually, Horst Kohler has as interlocutors in front of him elected officials of the Sahara who defend the territorial integrity of Morocco from north to south.
A position that undermines the Polisario's separatist claims and its boasting to be the legitimate representative of the Sahrawis, especially since the separatist front knows that the UN mediator will discuss with the presidents of two regions of the Sahara who present the same arguments as the separatists, but in the opposite direction.
The embarrassment of Brahim Ghali is all the greater as Yanja Khattat is himself a former member of the Polisario. He had slammed the door of the separatist movement in the 1990s and returned to Morocco when he realized that the Polisario was ultimately a mere puppet in the hands of Algeria. The Sahraoui Yanja Khattat had understood the true intentions of the Algerian generals who instrumentalize the Polisario and use the Sahara issue to weaken Morocco and cut it off from its historical extension in Africa.
Finally, Kohler will exchange viewpoints with the Moroccan delegation in Lisbon where the fundamental discussions will be guided by the outlines drawn by King Mohammed VI, namely that no settlement of the Sahara issue is conceivable outside the full sovereignty of Morocco on its Sahara, or outside the autonomy plan, which the international community has recognized as serious and credible.