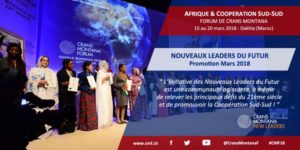 The Polisario is striving to prevent the holding in Dakhla of the Crans Montana Forum, an annual high mass to kick off Thursday.
Brahim Ghali, the leader of the Algeria-backed front, has even implored the African Union (AU) to intervene with Morocco to cancel the Crans Montana Forum.
This global gathering is taking place from March 15 to 20 in the city of Dakhla, under the theme "Africa and South-South Cooperation: Improving Governance and the Living Conditions of the People. The structuring role of Morocco at the regional and international levels".
The Polisario is all the more irritated as the holding of the Crans Montana Forum comes in the wake of a series of political and diplomatic setbacks it suffered in recent months. Apart from the legal guerrilla he is waging against Morocco on what he considers the plundering of the Sahara natural resources, the Polisario sustained repeated failures on the international stage.
Withdrawals of recognition of the pseudo-Sahraoui republic (SADR), self-proclaimed by the Polisario, continued as the prosperous years when Algeria could buy the recognition of a theoretical republic with petrodollars are bygone. This is particularly palpable in Africa and in Latin America, where recognitions of the SADR are withdrawn on a regular basis.
Elsewhere in the world, the cause of the Polisario no longer finds any buyers, even with what remains of Algerian support.
The United Nations refuses to recognize a republic that exists only on paper and that was created from scratch by the Algerian generals and no major capital in the world recognizes the pseudo-Republic. Besides, Western chancelleries unanimously qualify the SADR as a great trickery, product of the great rivalry between Algeria and Morocco.