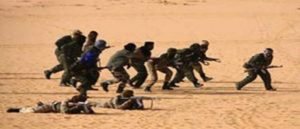 The deterioration of the situation in the Sahara, where Morocco threatens to crack down on the incursions of the Polisario in the buffer zone, actually reflects a tension with Algeria, whose generals push the Polisario separatists to breaking point in order to undermine the latest diplomatic gains made by the Kingdom.
Through the resurgence of the Polisario's activism, Algeria is actually seeking to put pressure on the UN Secretary-General Antonio Guterres, few weeks before he presents his report on Western Sahara to the Security Council, at the end of April.
Actually, the UN Secretary-General's Personal Envoy, German Horst Köhler, is about to confirm that the Sahara issue falls under the exclusive responsibility of the United Nations. No room therefore for the African Union (AU) that Algeria tries to involve in the Sahara conflict at any cost.
This UN leadership was, moreover, reaffirmed by the 30th AU Summit last January. African Heads of State and Government voiced support to the UN leadership in relaunching the negotiation process and pledged to cooperate fully with Köhler.
Another fact that worries Algerian generals is the prospect to see the UN Security Council insist that Algeria sit down at the negotiating table, as the side which is hosting the Polisario on its territory.
In fact, in his April 2017 report, Antonio Guterres who had reaffirmed his desire to reach a mutually acceptable political solution, made it clear that Algeria should be involved in the process.
Algiers considers such a process with wariness, all the more so that the Security Council now advocates a spirit of compromise and realism, which is in line with the autonomy plan proposed by Morocco.
All these developments have prompted Algeria to consider the gradual moving of the Polisario from its current headquarters in Tindouf, in the Algerian territory, to the buffer zone that the separatist front considers as "liberated territories".
It is this strategy of attrition that has aroused Morocco's fears. Hence, its warning against the incursions of the Polisario that Rabat now considers as "casus belli".