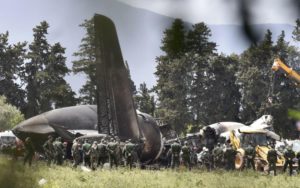 According to well-informed sources in the Tindouf camps, all Polisario members who died in the crash of the Algerian military plane were returning from a training operation they underwent in military training centers in Algeria.
Despite its tragic side, the crash of the Algerian military plane that was heading from the Boufarik base, near Algiers, to Tindouf, killing 257 people in total, confirmed what was already known.
Polisario executives and militias regularly travel between the headquarters of the separatist front in Tindouf and the military training centers in Algeria.
If Algeria has decreed a three-day national mourning, Brahim Ghali has declared seven days of mourning for the 26 Polisario members who died in this terrible air crash.
The decision of the separatist front's leader is motivated by the fact that several members of the Polisario security apparatus were among the victims. According to the same sources in Tindouf, some of the victims were very close to him.
After the "awkward" disclosure by the ruling FLN's Secretary General, Ould Abbas, of the presence of Polisario members among the victims, some Algerian media tried to hide the truth, saying that the members of the separatist front killed in the crash were Sahrawi civilians returning back to the Tindouf camps.
The obvious goal was to clear Algeria, accused by Morocco of being the linchpin in the Western Sahara conflict and the genuine mastermind guiding the Polisario.
But facts are stubborn. It is unthinkable that Sahrawi civilians be allowed to travel, along Algerian military, in an army aircraft.