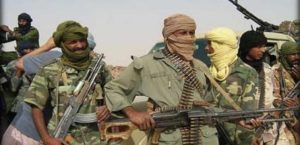 Although Algeria tries hard to present the Polisario as a reputable movement, nothing works. The front is regularly singled out for its collusion with terrorism in the Sahel and its separatist goals in the Sahara, as evidenced by two recent reports, one European, the other American.
The European report, commissioned and financed by the European Commission, states that the Polisario is involved, along with MUJAO and Ansar Dine, in the violence that took place in the Sahel-Sahara zone between 2010 and 2016. The report, issued by "Project Safte", is the result of international research on the access of terrorists to the illicit arms trade. It was published by the Flemish Institute for Peace on April 18.
The political chaos and security disorder that followed the fall of the Gaddafi regime in Libya opened up Libya's large arsenal to all sorts of terrorist and separatist groups in Libya's neighboring countries. Taking advantage of this disorder, the Polisario dipped into this arsenal, explains the European report.
The report, entitled "Illicit Markets and the Acquisition of Firearms by Terrorist Networks in Europe", warns of the risk that "some of these weapons will end up in the European Union". This was the case in 2015, when Europol revealed that weapons smuggled out from Libya, Syria and Mali were available on the European black market.
According to the report, "the Polisario now has enough weapons to sell and supply the regional market" through arms trafficking networks.
The second report, issued by the US State Department, describes as "separatists" the Polisario's supporters in Laayoune, capital of the Sahara. The report on the situation of Human Rights in the World in 2017 notes that the Polisario separatists in the Sahara can stage demonstrations freely, without any intervention on the part of Moroccan authorities.
This "change of tone" of the American Administration worries the Polisario, especially since it comes after the US Congress allowed Morocco, under the 2018 Appropriations Bill, to use US aid everywhere in the country, including in the Sahara.
These reports destabilize further the Algeria-backed separatist movement which is increasingly losing ground.