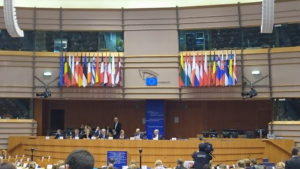 The doors of the European Union are inexorably closed to the Polisario. Brussels refuses to recognize to the separatist front any quality to represent the interests of the population of the Sahara, creating an embarrassing situation also for Algeria, which issues Algerian passports to Polisario leaders.
The Polisario was dealt another blow on Thursday in the European Parliament in Brussels. During a debate on the progress of the negotiations between Morocco and the EU on the association and fisheries agreements at the level of the International Trade Committee (INTA), Nicolas Bulte, the representative of the European External Action Service (EEAS), was very clear.
"The Polisario is not intended to represent exclusively the Sahara population," insisted Nicolas Bulte, representative of the body that governs, under the leadership of Mrs. Federica Mogherini, EU diplomatic relations with non-member countries and leads the Union's foreign and security policy.
The European official was keen to remove any ambiguity on this issue, recalling that even the Advocate General of the Court of Justice of the EU had made this clear in his opinion on the farm agreement. Similarly, in the latest judgment of the European Court on the fishing agreement issued on February 27, there is no mention of the Polisario Front, added Nicolas Bulte,
Responding to MEPs who insisted on the consent of the region population to any trade negotiations between Morocco and the EU, Nicolas Bulte explained that consultations were conducted with a wide range of representatives of the local population, including elected officials, civil society activists and the various stakeholders.
"Our responsibility is to ensure the population's benefit and that's what we did," said a representative of the European executive, sweeping away the accusations of Algeria and Polisario on an alleged looting of the natural resources of the Sahara.