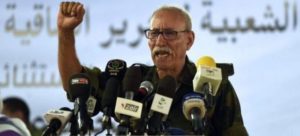 In the run-up to the July summit of the African Union (AU) in Mauritania, Polisario leader Brahim Ghali was dispatched by Algeria to southern Africa to seek support from the countries of the region. The move betrays Algerians' fear over the waning backing to the separatist front in Africa.
For ten days (May 27 to June 5), Brahim Ghali toured its last few traditional supporters in the region: South Africa, Namibia, Lesotho, Botswana, and Zimbabwe.
For Algeria, the Polisario leader's tour was necessary to remind the last allies of the Sahrawi front and mobilize what can still be, especially after the Polisario lost ground in Africa, in the wake of Morocco's return to the African Union in January 2017, and the diplomatic offensive that accompanied this return.
Within SADC, the regional organization of 15 Southern African members, only 8 countries still support the Polisario and recognize its pseudo- Republic, SADR, self-proclaimed but not recognized by the UN.
For the Algerian generals who are the decision-makers in the Sahara issue, the position of the Polisario, already weakened at the level of the European Union, would not survive a massive disavowal in Africa.
A situation all the more complicated for the Polisario as, since Morocco's return to the AU, many African countries have asked that the pan-African organization be kept out of the Sahara issue.
The Sahara issue is handled by the UN Security Council and does not need additional interference that may further complicate the UN process.