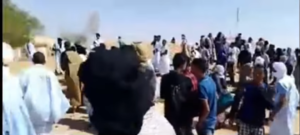 The demonstrations that have been going on for several days in the Tindouf camps, in protest against the death of Polisario's opponent, Brahim Ould Salek Ould Breika, embarrass the leadership of the Algeria-backed separatist movement.
The protesters are calling for truth about the circumstances of Brahim's death, at a time the Polisario claims that Brahim committed suicide, hanging himself in his cell in the infamous Dheibya prison.
Brahim Ould Salek Ould Breika, a well-known opponent to the Polisario, was barely 30 years old and was father to a little girl. The Polisario had thrown him in prison on charges of being member of a "criminal gang specialized in theft".
The victim's family and friends, who are observing successive sit-ins in front of the Polisario headquarters in Rabouni camp, are convinced that the opponent died under torture. They demand an autopsy.
Tension mounted a notch on Saturday, when the Polisario militia violently cracked down on the protesters, while Brahim Ghali preferred to hide away from the demonstrators who were shouting slogans hostile to all leaders of the separatist Front.
The protesters are all the more convinced of the physical liquidation of Brahim Ould Salek Ould Breika that the Polisario had claimed last January that another opponent, Ahmed Mohamed Radi, had hanged himself in his cell.
The Polisario argued that Radi hung himself with the wire of a fan in his cell. That was a gross lie. Who could believe that the Polisario was careful enough about the well-being of the inmates to equip the jail cells with air conditioning or freshening equipment?