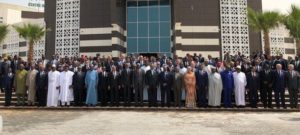 The Polisario is scoring more and more diplomatic setbacks in Africa and elsewhere, while the Morocco-proposed autonomy plan for the settlement of the Sahara issue is gaining more support day by day.
The latest blow was dealt to the Polisario at the level of the African Union, where pressure from Algeria and South Africa proved vain. African leaders meeting at the AU summit in Nouakchott agreed on the primacy of the UN in resolving the Sahara issue.
Mandated to report on the issue, Moussa Faki Mahamat, the chairman of the AU Commission, submitted on Sunday to the African Heads of State and Government gathered in the Mauritanian capital, a well-documented and balanced text.
The report puts an end to the agenda of Algeria, the unconditional supporter of the Polisario. Algeria tried hard to involve the AU in the Sahara settlement process, which is already in the hands of the United Nations. There is therefore no way for the African Union to launch a process, parallel to that led by the United Nations and the UN Secretary-General's Personal Envoy Horst Höhler.
A stage victory for Morocco, which has constantly pleaded for the AU not to interfere in the UN process. Especially since the Pan-African organization had already committed the unforgivable mistake of recognizing, in the 1980s, under Algeria's pressure, the pseudo-Sahara Republic (SADR), self-proclaimed by the Polisario and the late Algerian President Houari Boumedienne, but not recognized by the UN.
The other diplomatic setback suffered by the Polisario and Algeria came from Washington, whose deputy secretary of state, John Sullivan, said last week in Rabat, just after a visit to Algiers, that the autonomy plan was "an option"  to solve the Sahara issue.
The autonomy plan presented by Morocco is "a serious, realistic and credible plan that could satisfy the aspirations of the Sahara people," insisted the US official, who reiterated thus the position that the US administration defends on this regional conflict.