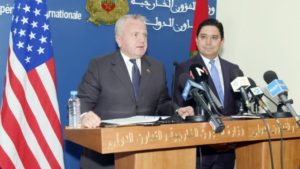 There are telling signs in the developments of the Western Sahara issue. Several permanent members of the Security Council have clearly expressed their support for the autonomy plan advocated by Morocco.
After France's clear-cut support for the autonomy plan, Horst Köhler, the Personal Envoy of the UN Secretary General, now needs to take into account the position of the United States and Great Britain.
Both countries have expressed clear positions on this matter, in the span of one week. The US Deputy Secretary of State, John Sullivan, reiterated Washington's stand on the autonomy plan in Rabat on June 29. British Minister of State for the Middle East and North Africa, Alistair Burt, on July 5 in London, welcomed as serious and credible the efforts made by Morocco to move forward towards a settlement of the Sahara issue, a reference to the Autonomy Initiative.
The statements by the US and British officials were well-timed. They came at the time African heads of state were holding their summit meeting in Nouakchott, and the UN envoy Köhler was touring the region.
The leaders of the African Union perceived the consensus emerging at the international level, and wisely decided to swim with the current. They finally recognized the primacy of the UN in the political process, and decided to keep the AU out of a conflict that the pan-African organization has helped to bog down.
In view of the regional and international geopolitical context and the various challenges, notably the terrorist threats in the Sahel-Sahara region, African leaders agreed that the UN is the only body tasked with settling the Sahara issue.
However, German Horst Köhler will have to convince the Polisario front and, above all, Algeria to sit at the negotiating table with Morocco. The resolution of the Security Council of last April is clear in this connection.
The UN body insists on the need for neighboring countries, mainly Algeria, to strengthen their engagement in the negotiation process. A call that Algiers continues to ignore. But for how long?