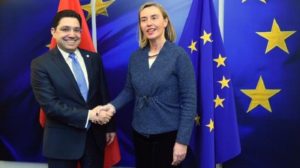 A new blow was dealt to the Polisario and Algeria in Europe. The EU foreign ministers on Monday decided to adjust the Morocco-EU assSaharaociation agreement and agricultural agreement to expressly include the Sahara and pave the way for the renewal of the bilateral fisheries agreement, which expired on July 14.
This decision comes at a time negotiations are continuing in Brussels between Morocco and its European partner for the renewal of the fisheries agreement, which allows the EU fleet to fish in Moroccan waters in exchange of annual financial fees.
If the negotiators have validated the political aspects, they are still pursuing negotiations in Brussels, particularly on the financial and technical aspects of the agreement.
Actually, the decision of the European Foreign Ministers shows that the European Executive is not disturbed by the intense lobbying staged by Algeria to abort the conclusion of the Association, Agriculture and Fisheries Agreements between Morocco and the EU.
As the Polisario's main supporter, Algeria funds a number of pro-Polisario pressure groups and pro-Polisario NGOs that defend the separatist front's thesis in Western Sahara, particularly at the level of the European Parliament.
Also, the European Foreign Ministers' decision ruins the plans of the Algeria-Polisario duo, especially that the measure is in accordance with the ruling of the European Court of Justice of December 21, 2016, and aims to include in the texts, the extension of preferential tariffs to the Moroccan Sahara.
Moreover, the Monday decision reinforces the legal basis for the export of products from the Moroccan southern provinces to the EU with trade preferences and promotes as well the development of these regions, a European source said.
The decision of the EU Foreign Ministers, who called on the European Parliament to adopt it as soon as possible, also allows the EU "to continue to boost its partnership with Morocco and paves the way forward for the renewal of the fisheries agreement between the two partners in the coming months," the European source said.