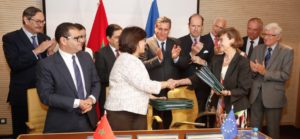 The Polisario continues to suffer setbacks at the level of the European Union. The European Court of Justice has just rejected an appeal lodged by the separatist movement in 2014 demanding the annulment of the Morocco-EU fisheries agreement.
In their verdict issued on July 19, the judges of the Luxembourg-based EU court rejected the Polisario's appeal, saying that this move "is not directly nor individually concerned" by the fisheries agreement.
The Polisario "cannot, in any event, be considered, given the arguments that it invokes, as having locus standi," says the European Court, which declared the action for annulment as "inadmissible in its entirety".
The disaster caused by this verdict seems all the greater for the Polisario leaders and their Algerian mentors that it took place almost at the same time Morocco and the EU initialed a new fisheries agreement that covers all Moroccan waters, including off the Sahara. The new deal was initialed in Rabat on Tuesday, July 24.
That is to say that the legal guerilla led by the Polisario, with the support of the Algerian diplomatic machine, was a bitter failure, for both the separatist front and for Algeria.
Meanwhile, Morocco and the EU have shown that their strategic partnership is strong and cannot be shaken by vain attempts to exclude the Saharan territory from their cooperation.
And just as misfortune never comes one at a time, the Polisario suffered another setback, at the UN this time. The UN Economic and Social Council unanimously rejected on Tuesday, July 24, 2018, the accreditation application submitted by an NGO called "International Office for the Respect of Human Rights in Western Sahara". And as usual, the pro-Polisario NGO is funded by Algeria.
This pseudo-organization had submitted, in 2010, an accreditation application to the UN Committee of NGOs, reporting to the Economic and Social Council. But the UN Committee was not fooled and after investigations that lasted several years, it rejected the request.
The UN Committee realized that it was not a human rights NGO, but a body manipulated by Algeria to continue fueling the Sahara conflict.