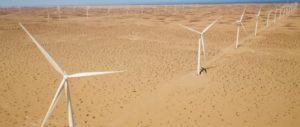 The Polisario, alarmed by Soluna Blockchain's project to build a 900 MW wind power plant in Dakhla, tries to oppose this company via a media campaign led by the WSRW observatory and amplified by the Algerian media.
The panic of the Polisario and Algeria is all the greater as the launch of the Soluna Blockchaine project, a company controlled by the US investment fund Brookstone Partners, is planned for early 2019. This pilot project also worries them because it is unprecedented by its magnitude and technological scope. It will spread over a site of 15,000 hectares and will require an investment valued between $1.5 and $3 billion over 5 years.
WSRW, the pro-Polisario observatory, criticized the executive director of the American company, John Belizaire. The latter outlined, in an interview with Reuters, the milestones of the future wind power plant in Dakhla, located in southern Morocco.
The project was announced in a statement issued on July 27 by the Soluna company and reported by Bloomberg agency.
From Dakhla, one of the world's windiest regions, the American company plans to produce clean energy to power servers for the blockchain, a high-energy consuming technology of data storage and transmission. It is used for crypto-currencies, bitcoin and other technological innovations of the future.
The Polisario and Algeria fear that the future wind-power plant of Soluna Blockchain will put the Sahara in the radar of large international companies operating in the sector, especially since the region is already developing the Noor solar projects in Laayoune ( 80MW) and Boujdour (20MW), in addition to the wind farms of Tarfaya and Boujdour.
This new setback suffered by the polisario and Algeria reinforces the position of Morocco especially that Google had removed the line separating Morocco from the Sahara and the name "Western Sahara" from its famous Google Maps.