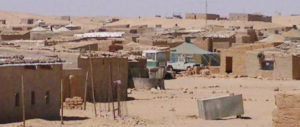 In the Tindouf camps, the Sahrawis are angrier by the day against the Polisario leaders since the media revealed Tuesday a new scandal of diversion of the international food aid.
A widely consumed product, Gofio, intended originally for a population living in precariousness, was being sold in Algerian grocery stores.
Gofio, a food product made from maize, is donated to the Tindouf camps population by a Spanish NGO as part of international humanitarian aid. The product, not for sale, is intended exclusively for a Sahrawi population living in difficult conditions in the inhospitable desert of southwestern Algeria, under the permanent surveillance exercised by the separatist front.
But instead of being donated to the starving population of the Tindouf camps, Gofio was found on the stalls of Algerian merchants in the city of Tindouf, reveals the pro-polisario website futurosahara.net.
Anyways, this is not the Polisario leaders' first diversion crime. The front, which, with the support of Algeria, claims the independence of the Moroccan southern regions, in the Sahara, has already been pinned in scandals of embezzlement of international humanitarian aid, whose profits fill the bank accounts of the separatist movement's apparatchiks.
In May, Mauritanian customs seized a large shipment of food sent by the European Union to residents of the Tindouf camps. The shipment was diverted to be sold in Mauritanian markets.
But the biggest scandal erupted in January 2015, when the European Commission Anti-Fraud Office (OLAF) released a damning report, documenting the involvement in the humanitarian aid diversion not only of Polisario leaders, but also of Algerian officials.
Compiled after eight years of investigations based on field inquiries, confirmed by satellite photos, the report unveiled the system put in place by the Polisario leaders, in collusion with Algerian officials, for systematic and regular diversion of international aid as soon as it is unloaded in the Algerian port of Oran.
Much of the humanitarian aid is then channeled to markets in Algeria, Mauritania and even Mali, the OLAF report disclosed, noting that only a tiny part of the aid arrives in the Tindouf camps.