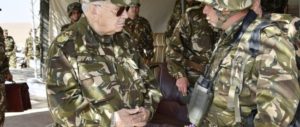 According to well-informed sources in the Tindouf camps, the Algerian generals have associated elements of the Polisario in the military drills held by the Algerian army, Tuesday near the headquarters of the separatist front. Live ammunitions were used in the drills named "Iktissah 2018" (invasion), the sources said.
The "tactical" exercise took place with "the participation of the organic units and the elementary units dependent on the South Operational Sector of Tindouf". It was conducted under the theme "the first gathering of forces in offensive from direct contact with the enemy," said a statement issued by the Algerian Ministry of Defense.
It is no coincidence that the exercise was organized south of Tindouf, where the Polisario militia are stationed.
The Algerian army no longer hides its collusion with the Polisario, especially since the crash of the Algerian military aircraft at Boufarik on April 11, 2018, in which 257 Algerian soldiers and officers and 29 Polisario members perished.
These exercises sound like a headlong rush of Algerian leaders, in a context where the major capitals involved in the Sahara issue settlement process are putting pressure on Algiers to contribute to this process, since it is the main supporter of the Polisario.
Last April, the Security Council insisted on this specific point in its resolution 2414, expressly asking the neighboring countries, therefore Algeria, "to make important contributions to the political process and to increase their engagement in the negotiating process".
Yet, Algiers blocks the autonomy solution in the Sahara proposed by Morocco, a proposal considered by many States as "realistic and credible" that is likely to secure peace and stability in the region.