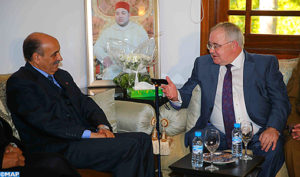 The polisario was very embarrassed by the latest statement made by Khalihenna Ould Errachid, one of the main notables of the Sahara, who affirmed that the autonomy plan offered by Morocco was "elaborated by the Sahrawis" themselves who are the primarily concerned by this dossier, according to well-informed sources in the Tindouf camps.
During his meeting in Rabat with visiting Speaker of the Irish Parliament Seán Ó Fearghaíl, Mr. Khalihenna Ould Errachid, chairman of CORCAS (Royal Advisory Council for Saharan Affairs), said "the Moroccan autonomy plan, which is the solution on the UN negotiating table, was elaborated by the Sahrawis, who are primarily concerned by the dossier".
The remarks made by the Saharawi leader caused a big embarrassment for the separatist leadership because they, firstly, belie the polisario claims that it is the unique representative of the Sahrawis and secondly because the Polisario, emboldened by Algerian strong backing, rejects the Moroccan plan of autonomy which Khalihenna fully supports.
Moreover, the autonomy initiative is on the agenda of the UN Security Council and has been cited by resolution 2440 adopted last October,welcoming the "serious and credible" efforts to advance the political process for the resolution of this regional conflict.
The text, which urged the parties to the conflict to show realism and compromise, has for the first time, designated Algeria as a stakeholder in the Sahara issue due to its role in the genesis and continuation of this regional conflict.
It is also on this basis that Algeria was compelled to participate in the Geneva round-table on the Sahara (convened Dec. 5 -6)alongside Morocco, Mauritania, and the separatist movement of the polisario.