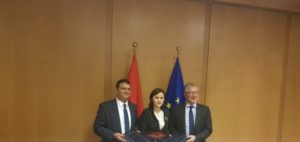 The polisario is exasperated, feeling burnout and perplexed after losing all its European campaigns funded by the Algerian regime and after failing to coax the European Union which signed, on Monday in Brussels, with Morocco the new fisheries agreement including the Sahara.
Sealed after a long negotiation process, the Morocco-EU agreement covers the fishing zone extending from parallel 35 to parallel 22, from Cape Spartel in northern Morocco to Cape Blanc in the extreme south of the Kingdom.
The agreement, which dealt a new setback to the separatist movement backed by Algiers, confirms the strength of the strategic partnership that the European partner is maintaining with Morocco.
Inked last July in Rabat, the Morocco-EU fisheries deal was endorsed Monday by the various EU bodies. It respects Morocco's territorial integrity and proves that the European governments place the relationship with the Kingdom in a long-term strategic vision, beyond all conjunctural considerations.
Furthermore, the EU stand is in line with the position adopted by all countries of the European bloc as no European capital (like the UN) recognizes the self-proclaimed "Sahrawi Republic" (SADR), a phantom entity armed, funded and sheltered by Algeria.