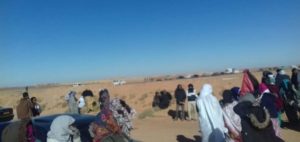 The Polisario leaders are very embarrassed by the demonstrations staged by many Sahrawis on Thursday (Jan.31) to protest the disappearance of inmate Ahmed El Khalil, well-informed sources in Tindouf said, adding that their embarrassment is all the greater as the protesters have also called for an end to enforced disappearances in the camps, run by the Polisario with the help of Algerian military intelligence officers.
Ahmed Khalil, a former senior executive of the separatist movement who was close to the late Mohamed Abdelaziz, was about to reveal serious human rights violations committed by the Polisario when he was arrested and detained in Algeria in 2009.
In September the same year, his son was allowed to visit him and that was the last time anyone saw him again.
Ten years after this mysterious disappearance, his family and many Sahrawis from Tindouf defied Brahim Ghali's militia and staged protests in front of the UNHCR representation in Rabouni, which also hosts the Polisario's headquarters.
The Polisario leaders were taken aback by the determination of the demonstrators who want to know the fate of Ahmed Khalil, dead or alive, the same sources said. They added that Brahim Ghali and his closest aides know that the Khalil affair directly involves Algerian military intelligence officers, the very officers who protect them and ensure that they remain at the head of the separatist front to perpetuate the Sahara conflict.