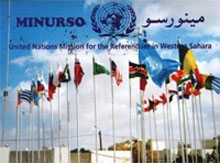 According to several concordant informations, ultramodern telecommunication equipment recently acquired by the MINURSO and installed on vehicles 4×4 NISSAN type, was concealed by a fundamentalist faction of the Polisario Front moving between the camps of Tindouf and its back base in the Sahel.
This theft, beyond the purely pecuniary aspect, is worrying from the point of view of the technological qualitative jump that this fundamentalist group can carry out by making safe its communications.

In the current situation, one can only speculate of the use of this material by this fundamentalist group.
The Algerian army, worried by this fact, opened immediately an investigation and executed, according to a source present on the spot, a raid within the camps trying to go up with the authors of the theft.