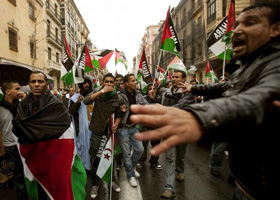 He was probably expecting a kind of special reception committee, but certainly not to go out ribs broken. In fact, the journalist Mohamed, from the American channel in Arabic El Hourra, learnt on his own expenses that one should not go against the "revolutionary meetings" organized by the Polisario Front.
Indeed, the latter succeeded in mobilizing some 500 extreme left wing activists in Grenada, in order to organize an anti-demonstration to the force demonstration of Moroccans, who were over 1100,0 crowding to celebrate the first Morocco- European Union summit held this weekend. Weary, Ould Lemine Khetari has been the first victim of the Polisario gathering, as he has been be ill-treated when he dared asking the question that makes angry: how many people are here today to manifest?
A political representative of the Polisario Front, arriving from the Canary Islands, answered him that over "ten thousand comrades" have joined the demonstration. The journalist answered that many hundreds would be closer to the reality, but as a clarification, he received a hook from the political representative. Then, many comrades used violence against him, accusing him of "undermining" their "fight", and of being paid by the "American imperialism".
This strangely reminds of the most beautiful hours of the Algerian propaganda in the beginning of the Polisario Front, when the manifesto of the latter – drafted in Algiers by the National Liberation Front executives who advocated then the "scientific socialism"- stipulated that one of the Front's goals was to "reduce gaps between the city and the countryside". A huge program, mainly in the Sahara…