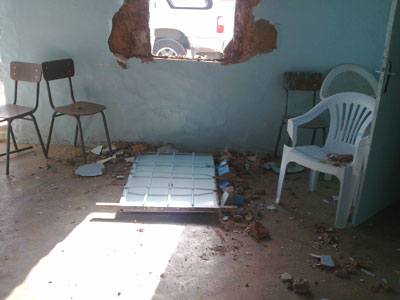 From sources close to the Polisario Front Leadership, a MINURSO telecommunication centre, near the Polisario Front headquarters of Rabouni (Algerian South-East, near Tindouf), has recently been devastated and its equipment stolen. The story goes back to June 2009, the MINURSO official, from the Algerian side, wants at any price to get rid of a telecom centre guard called Mahjub, but the Polisario Front multiplies the administrative harassments to postpone the replacement of the latter. In fact, it was clear that the so-called Mahjub is not a simple guard, but an agent of the Polisario Front intelligence, in charge of picking out all the UN forces movements and communications, and handing over reports to the Front leadership. After many unsuccessful attempts, the MINURSO official in the area called the said guard and fired him.
A few days later, the UN civil servant has been informed that the centre for which Mahjub was responsible has been devastated and all the equipment disappeared. Yet, this raises a serious problem as an UHF transmitter/receiver of high capacity has been stolen, which embarrasses even the Polisario Front leadership, uneasy to know this kind of "special" equipment somewhere in nature, especially given the proximity of the terrorist groups linked to Al Qaeda in the Islamic Maghreb (AQIM).
Did Mahjub sell to these non identified groups the equipment stolen from the MINURSO? The Polisario, like the UN forces, wants to get to the bottom of it, and an inquiry has been immediately carried out and the former guard was put in solitary confinement. Yet, Mahjub harshly denies having stolen the transmitter or devastating the MINURSO premises, and the equipment has not been found until now. We bet the bands operating in the Sahel should be happy about it.