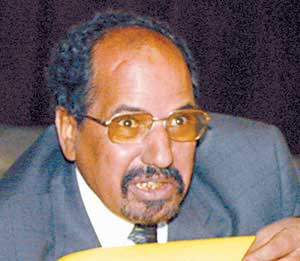 According to reliable sources close to the Algerian Foreign Ministry, and to information reaching the "Polisario Confidentiel" through members of the Sahrawi diaspora, many members of the Polisario Front leadership, among whom two practising ministers, are inclined to join Morocco in the coming weeks, following a deep disagreement with the Guerilla movement General Secretary and his wife, Khadija Hamdi, in charge of the Front cultural affairs.
Discontent has been going on for these last weeks, before reaching its peak following the UN resolution renewing the MINURSO mandate for one more year.
This resolution, violently deplored by Mohammed Abdelaziz, would have been the last straw in the silent confrontation opposing the "progressists" (those who want to negotiate with Morocco its autonomy proposal and rectify it) and the Front hard line being entirely under the authority of the Algerian Intelligence Services (the DRS led by the lieutenant general Mohammed Mediène "Toufik". For the progressist side, the resolution would enable to negotiate with Morocco in better conditions and would allow even the return to "formal" negotiations (known under the name of Manhasset process).
According to our information, the future dissidents are presently in a transit country (probably Spain), and heavy pressures would be exerted on them and their families to push them to abandon the idea of joining Morocco.