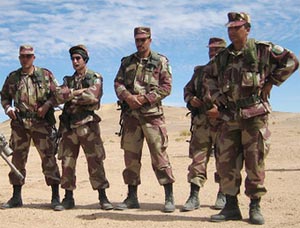 Fifty Sahrawis who were trying to leave Tindouf camps managed by the Polisario Front, were arrested by Algerian army during the night of Monday to Tuesday, has learned the « Polisario Confidentiel", from a reliable source close to the Guerilla movement leadership.
Led by the son of one of the Polisario executives, the group of fifty persons was trying to join Morocco through Mauritania. Alerted by an informer inside Tindouf camps, members from the Algerian intelligence and security department (DRS) have constituted with the Algerian military command in Tindouf, a commando in charge of bringing back the Sahrawis willing to join Morocco. Equipped with jeeps, soft weapons and two MI-24 Russian helicopters, the commando composed of Algerian soldiers from the élite and the DRS "action" service members, has crossed the likely roads to have been taken by Sahrawis.
On Tuesday, around 3 a.m., the helicopters have located the lights of mountain cars used by the escaping group and have alerted the groups working on land in order to bring back Polisario leader's son as well as members of his family who were on travel.
The group did not show any resistance and has asked via a designated spokesman to be delivered to the UNHCR delegation so that some guarantees be given to them about their destiny.
To this request, the colonel D, leading operations on Algeria's behalf, has responded: "you want to go to the HCR? You would rather get acquainted with the HCA (Higher Algerian Solitary Confinement…". The fifty Sahrawis have been separated in many groups, before being led to unknown places.