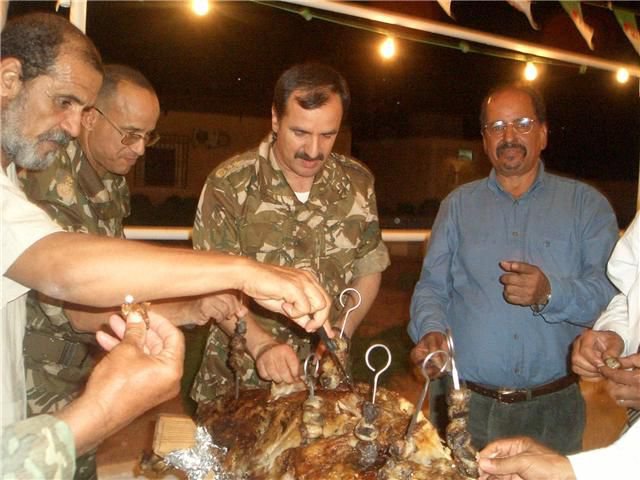 As in the pure Soviet tradition, a man condemned to death is entitled to a last sumptuous meal before meeting his destiny. Mahfoud Ali Beiba, co-founder and number 2 of the Polisario, who died this summer in strange circumstances – was no exception to the rule, sharing, as we can see in this exclusive photo, a sheep with Mohamed Abdelaziz and two senior executives in the Algerian services, a few hours before being killed.
Even stranger is the way this photo appeared; it was posted to the photo sharing website, "Facebook", by a Sahrawi who promises to give sensational revelations "once he arrives in Spain". Does it mean that we would witness an acceleration of defections within the Polisario Front in a background of settling accounts between leaders?
What is certain is that the suspicious death of Ali Beiba, who was among the negotiators with Morocco and was said to be inclined to find an understanding on common ground, besides the imprisonment of the Police Secretary General Mustapha Salma Ould Sidi Mouloud, has deeply divided the Polisario Front, and  we should shortly witness  a new wave of defections.
While the largest fuzziness prevails on the possible resumption of negotiations, with the Spanish and the UN alternating contradictory statements, it could be that the most important part of the common history of the Polisario and Algeria is being played right now: where the end of the movement is taking shape, some of Tindouf Sahrawis deciding to become autonomists and join Morocco…