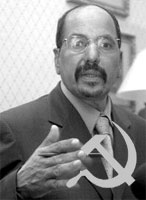 Mohammed Abdelaziz, Secretary General of the Polisario Front also called "Mister 15%", has secured his re-election scoring 85% of votes. However, 15% of the votes were not expressed in his favor, even if he was … the only candidate.
An investigation was immediately conducted trying to find out the enemies of the revolution who had the impertinence to allow the re-election of the Comrade Secretary General with such a low score.
With 85%, Mohammed Abdelaziz follows the steps of his mentors specially Abyssinian Mengistu Haile Mariam (former president of Ethiopia) who, in September 10, 1987, obtained exactly the same score. However, a small event occurred since, namely the fall of the Berlin Wall, and the abandonment of the scores known as "Soviet" at the time of elections of secretaries-general of Leninist- Marxist movements. This "detail" of the history, the Polisario Front seems not to have seized it, believing that Homeric scores reinforce the popularity of the Chief among the leading authorities and the political police chiefs. Those nevertheless are confronted to a growing dilemma: how to manage this inescapable fall of the election score? In 2003, the brother Abdelaziz had at least the courtesy to be re-elected with 92% of voices. But with the 85%, we start approaching the level of Tchernenko, which does not predict any good.
Would it be the era of the «glasnost"? Would a certain "Moroccan autonomy plan" be making its way just like freedom cleared a road to the Eastern bloc in 1989?