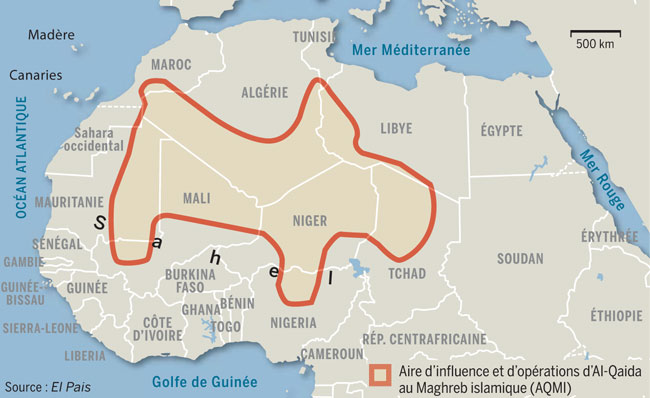 The Western intelligence services suspicions about the existence of relations between the AQMI, the Polisario and the networks of traffickers in the Sahelo-Saharan region, are more and more getting confirmed. The arrest on the 9th December, by the Malian security forces, of six important drug traffickers, all of them "coming from Polisario ranks" comes to confirm the apprehensions of these services.
A Malian security source has confirmed to the French Press Agency (AFP) the presence among the six arrested traffickers of a certain Sultan Ould Bady. He is a "Sahrawi, a great drug trafficker wanted by many police services in the sub-region", according to the same source. A part from the drug traffic, Sultan Ould Bady would "have kidnapped and resold many European hostages in the Sahara before rejoining the AQMI ranks". While waiting for the result of investigations made about the real identity of the enigmatic Sultan Ould Bady, the Malian security forces, working in close collaboration with their Mauritanian counterparts, did not lose time.
The services of the two neighbour countries struggling against AQMI terrorist groups, have stated that the six traffickers, arrested by the Malians, are part of the same traffickers group which has just been dismantled by the Mauritanians two days later. The Mauritanian army has in fact announced on the 8th December, to have arrested, the previous day, seven traffickers and to have killed two, in an operation in the East of the country, at the frontier with Mali. It has been revealed that it concerns "one of the three main networks of traffickers who sell drug to Europe through the Sahara", has specified the same Malian security source.
For different intelligence services, whether Westerners or those from the region, the Mauritanian and Malian forces which have reinforced the synchronization of their interventions, are making life hard for the AQMI terrorist group and the networks of traffickers which are supporting them. And it is this same coordination which is revealing now the real connections between this networks and the Polisario, thus confirming the information leaks revealed by Wikileaks about the fears to see emerging a Tindouf-AQMI axis.