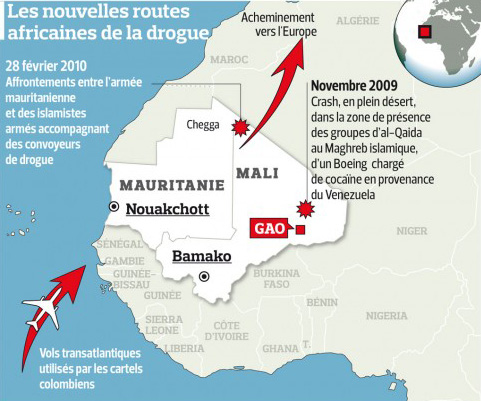 Some sources in agreement, in Tindouf, have revealed that the recent arrest in Mauritania and Mali of drug-traffickers being in their majority from the Polisario, has highly antagonized the Algerian services which reproach to the Polisario leadership the lack of discretion among the elements operating in the region.
The DRS executives, the Algerian military intelligence services, are so angry against the Polisario leadership especially that the chief of the arrested drug-traffickers network is a Sahrawi named Soultani Ould Ahmadou Ould Baddi, called Sléitine. The general headquarters is also so embarrassed by this affair. The list of arrested Sahrawis whose names were revealed by the security Malian and Nigerian sources to the AFP, is overwhelming. Well-known names in Tindouf were given such as Breika Ould Cheikh, Farha Ould Hmoud Ould Maâtallah, former military living in Tindouf camps and Lahcen Ali Ould Brahim known as "Grandayzar".
All of them were members of the "main drug traffickers networks in the Sahara area". The network is known under the name of "Polisario" as "it was composed, for more than 90%, of elements from the Polisario camps", according to the same sources. "It has shift traffickers in each country of the Sahelo-Saharan strip (…) and has already transported many tons of drugs through the Sahara, towards Europe".
As it never rains but it pours, this important haul against the drug traffickers in the desert, has coincided with the revelations of the Wikileaks about the Malian President Amadou Toumany Touré's violent criticism of the Algerian military intelligence services. In a telegram dated 30th June 2008, the American embassy in Bamako talks about a Malian President so worried about the security situation which has fallen into "dangerous" deterioration in the Sahel. "President Touré is convinced that President Bouteflika  is not controlling or does not know what his intelligence services are doing along the borders between Mali and Algeria", as mentioned in the memo of the American chancery.