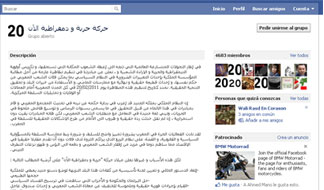 This Monday 31st January 2011, the Moroccan internet surfers have succeeded to put down an attempt to manipulate the internet through facebook, probably operated by the Polisario front and the Algerian secret services. Through a facebook page, the mysterious internet surfers called the Moroccans to demonstrate on the 27th February in all the cities of the Kingdom. Putting a question about this date, certain internet surfers have immediately called for the boycott of this manipulation reminding that this date commemorates the anniversary of the creation of the Sahrawi Arab Democratic Republic (SADR).
Even if the managers of the Facebook page have tried to adjust their position by calling for the demonstration on the 20th instead of the 27th, the manipulation has drawn the attention of the Moroccan community on Facebook, which has alerted, through the net, about the dangers of this disinformation attempt, probably managed by the intelligence and security  Department, Algerian intelligence services.
Since the clear decline of the Algerian position concerning the Western Sahara issue, following the informal negotiations of Manhasset, two weeks ago, this is the second attempt by Algerian "services" to make manipulations through internet. These services who want to make others believe that secret negotiations had taken place in the Canary Islands between Morocco and the Polisario, as was revealed by the daily newspaper "Le Soir".