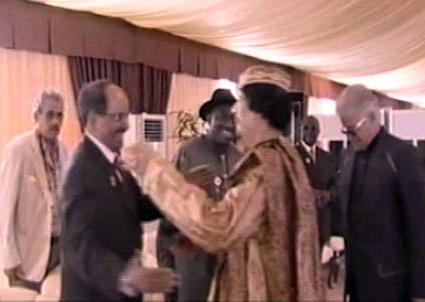 Polisario has found the parade to support colonel Kadhafi without being so much noticed. Instead of sending its fighters directly to its bases in Algeria towards Libya, Polisario has chosen to make a detour towards North of Mali. Starting from there, these elements are transported by armed guards among other African mercenaries contingents starting from Libya According to reliable Malian sources, Polisario has changed its tactics by deploying its fighters in the African mercenaries ranks so as to avoid that they would be located.
The Polisario leadership was embarrassed at the beginning of the revolt by the revelations of the Libyan rebels and their leaders outside Libya. The latter have denounced with force the presence of Polisario elements besides Kadhafi troops. The same sources specify that the motivations of Polisario elements are different from African mercenaries. In the case of the latter, some intermediaries are in charge of recruiting and regrouping the recruited people who are afterwards sent to fight in the ranks of the troops who remained loyal to the colonel.
In these desert regions at the borders of Mali, Niger and South of Algeria, Kadhafi is very influential since the 80s. Thanks to the manna of petrodollars, the Libyan dictator has known how to weave a network of accomplices towards whom he turns today when he finds himself on a knife edge. Concerning the Polisario reasons, they are older and more compromising. The unpredictable Libyan dictator was, at the side of Algeria, the main military and financial support to the Polisario. The separatist front was thus leading a bloody war against the Moroccan royal troops in the 70s and 80s of the last century. Today, the Polisario support to the indecisive colonel comes as a well deserved gratitude.