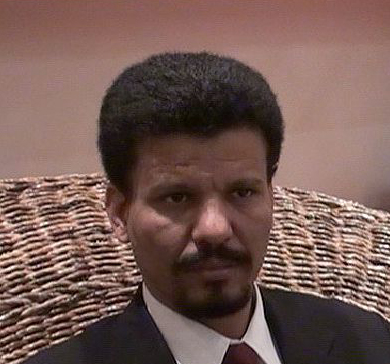 According to Libyan sources in Tripoli, behind the contingents of mercenaries sent to help with force Kadhafi, there is a providential intermediary . Mohamed Yeslem Beissat, an old fox from the Polisario Front. Known for his obscure relations with the network of desert traffickers , he strides tirelessly over the desert triangle extending along North of Mali-Niger and South of Algeria. Through its peregrinations, he has also made close relations with the chief of AQIM terrorist groups, the Maghreb franchise of Al Qaïda.
Mohamed Yeslem Beissat, Polisario former ambassador in Algeria, has also deep relationship with the Algerian security sphere. It is one of the advantages which have pushed the Polisario to entrust him with the mission of helping the Kadhafi clan, a very long time ally of the Sahrawi cause. His free accesses to the military and security sphere in Algeria where he spends most of his time, have become an important advantage. He has increased secret round trips at the beginning of the uprising in Libya against Kadhafi where he has met many Libyan secret services' agents. This has allowed him to make hundreds of Polisario fighters, mercenaries from Mali, Niger and especially Chad, infiltrate Libya through the South of Algeria, according to the same sources.
The great familiarity of Yeslem Beissat with the traffic networks in the Sahelo-Saharan zone, taking into consideration his portfolio as a Polisario executive in charge of Africa, has made necessary recruitments for him easier.
But in time, this improvized mobilization proved to be vain. With the turning of the situation against the hot-headed colonel Kadhafi, the military support of mercenaries becomes of little efficiency, even ineffective. Not well trained and without any connection with the group Kadhafi's command, the mercenaries have more and more difficulties to resist to the attacks of aviation and missiles of the Western coalition.