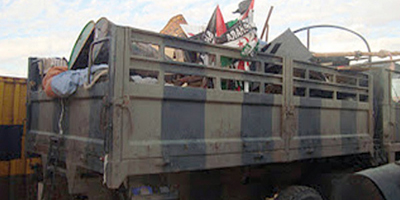 Some well informed sources in Tindouf camps have declared to Polisario-confidentiel that Mohamed Abdelaziz has lately made a deep reshuffle in the security device in Rabouni camp.
This upheaval was provoked by the revolt of many young people who have led many protesting actions and open sit-in in Tindouf camps, particularly in Rabouni. But, it is another operation which has made the Polisario chief very furious. The writing with white paint of the word "clear off", on the pavement leading to the Polisario HQ, has infuriated him according to the same sources. Some executives in charge of security in Rabouni camp have been replaced and sent to other posts of control. The revolt of the young Sahrawis in Tindouf, prevailing since many weeks already, was aggravated by the debated election of Mohamed Abdelaziz at the head of the Polisario.
This new hubbub in the security services comes after the one which happened following the kidnapping of three Western aid workers, on the 23rd October 2011. This kidnapping in Rabouni camp has thus raised many questions. Especially that the site hosting the Polisario headquarters, is highly controlled day and night. The dreadful Algerian military intelligence services, the DRS, has called upon Mohamed Abdelaziz  to totally review his security device in the camps. All the security breaches were done up, namely, when it seemed that the kidnapping of the two Spanish and one Italian aid workers was the work of Al Qaida with the help of some Polisario elements.
But it seems that these successive doing-up of the security device did not succeed to arrest the increasing of boo-boo in the Polisario camps.