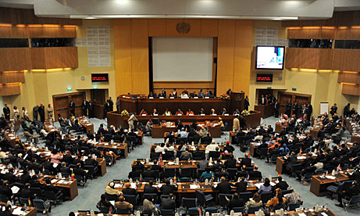 The last African Summit of Addis-Abeba was a real nightmare for the Polisario leadership. The pleasant welcoming of many African leaders to the chief of the Moroccan diplomacy, was a real disruption for the Polisario leadership.
Some well informed sources in the Sahrawi camps of Tindouf in Algeria, have assured the Polisario-Confidentiel  that the solemn calls launched by many Head of States in Addis-Abeba, in favour of the reintegration of Morocco in the African Union, were badly perceived by Mohamed Abdelaziz. The Polisario chief was given short notice of the great sympathy that Morocco continues rising within most of the African States, even if the Kingdom has slammed the door of the African Organization since 1984. After the African Summit, the Polisario Chief has confided to some closest to him that apart from the Algerian leaders, he does not trust the support of many African Head of States.
From the same sources, the leadership of the Sahrawi Front has felt the African summit like an unprecedented turnaround. Especially that the Polisario is preparing itself for a new round of negotiations with Morocco, supervised by the UN envoy, the American Christopher Ross. A 9th round that the Polisario tackles with the most apprehension. The Polisario struggling against Morocco for the independence of the Western Sahara region, is conscious of its weakness.
Not benefiting from the recognition of any member of the Security Council, neither of any international power, it can rely only on some support in Africa and Latin America. An uncomfortable situation at a time when the international community and the Security Council call the protagonists to avoid trying to outdo their rivals and to negotiate within a spirit of compromise and realism.